China 2002
Hallo,
dies sind Bilder von meiner Studienreise nach China im Sommer 2002. Schwerpunkt der Reise bildete die Arbeit in einem Projekt der Huazhong University of Science & Technology in Wuhan. Mit meinen fünf Komilitonen der Freien Universität Berlin haben wir aber auch Peking, Shanghai und Hong Kong gesehen. Eine ausführiche Vorstellung des Austauschprogramms und weitere Fotos gibt es auf der offiziellen Seite des Informatik-Instituts der Freien Universität Berlin.

(Click on the text to translate into English.)
Wuhan
During my stay at the Department for Electronics and Information Technology of the Huazhong University for Science & Technology in Wuhan I joined a project of Proffessor Lu's group on intelligent building technology. To help me both with the work and organising my life on campus, HUST student Luo Huaien was assigned my link man and after a few nights at the canteen we became good friends. Just as important as working on the project was the cultural exchange, so we often went on trips together with Proffessor Lu, Luo Huaien and other fellow students like Lu En, Sun Quin Mei and Lee Chang. I must say that due to their hospitality I had a wonderful time at Wuhan!
We lived in the foreign students dormatory where we made friends with people from Africa, Nepal, Palestine and many other countries on the various parties and sit-ins in front of the building which usually lasted until the Shi Fu got very tired ;)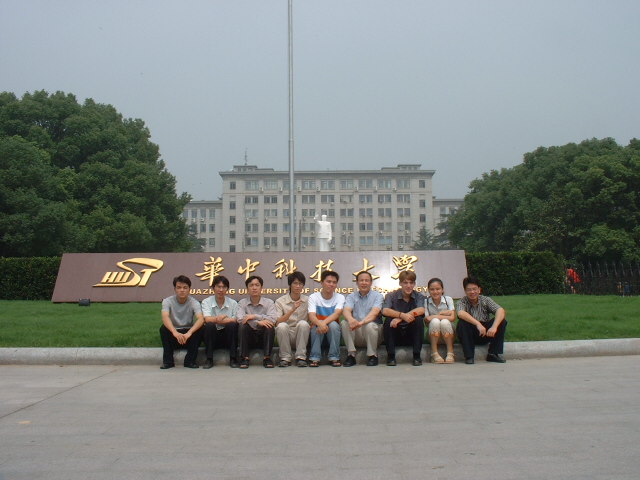 With students from my department in front of the HUST main building showing the Chinese people's hero Mao. To my left: Proffessor Lu and my super link man Luo Huaien, to my right Sun Quin Mei.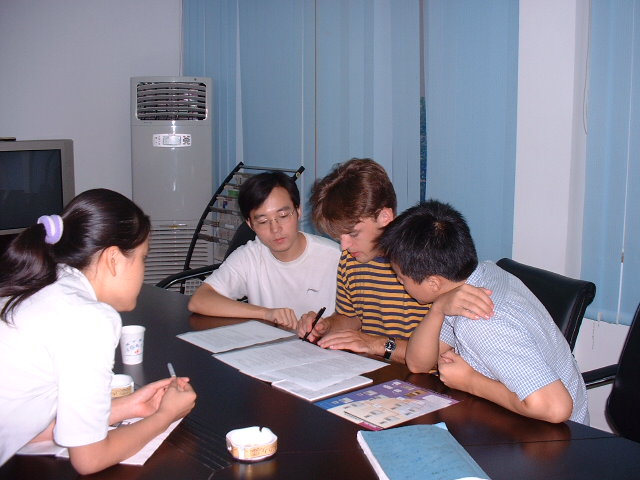 Working on the project with fellow students.


In front of the laboratory with Professor Lu.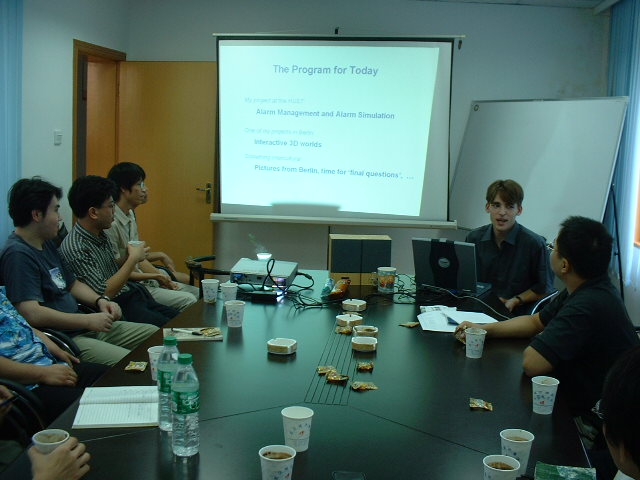 Presenting the result of my project to the other students.

Unfortunately, I have no pictures from our room. However, there is a little story which I think illustrates the situation quite well. (sorry, in German only)


In the main canteen of our university.
Each portion was cooked individually upon order.


A nice pond with lotus flowers on the campus.


Different kinds of Tofu at the local market (still part of the campus!).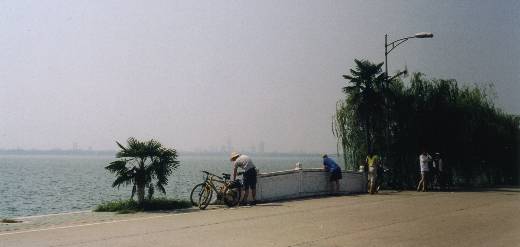 Touring the East Lake.


An 'open air restaurant' in Wuhan downtown.


A Buddhist temple in Hanjang, the historic part of Wuhan.


Visiting the temple with our Chinese friends.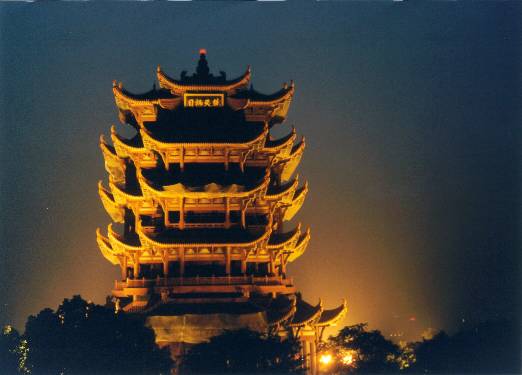 Wuhan's famous Yellow Crane Tower - one of three big towers along Chan Jang river. According to the legend a wise man took off to heaven on a yellow crane from the top of this tower!
Short Trips in China - Beijing, Shanghai, Hong Kong